Hey folks! I've been up to a lot of cool voice over things! For the longest time, e-learning was the bread and butter of my studio. Now it looks like video games and other fun things have taken over. Unfortunately, I can't provide much project information right now, but you'll be hearing in some upcoming smaller games. You'll also be hearing me sometime in the (much?) later future in some cool toys! Again, can't provide project specifics, but one is a voice match for a character I grew up watching! It's the (current) high point of the year!
I've also taken on a new voice over student who is knocking it out of the park with her submissions! Her booking rate might be better than mine! Which is fine by me! I'm usually the session's sound engineer.
Finally, I've gotten around to doing some studio upgrades...snack station is now halfway done. Complete with green apples and a Keurig for some nice between session refreshment. I'm more of a tea person, (as you can see by the tea and sweetner bar next to it!) but a ton of people like to have their Keurig coffee. Right now the only flavor is coffee. And by coffee, I mean the first coffee flavor I saw at the store. No judgement! I'm not a coffee person!
Next on the docket is getting setting up another voice booth, so I can record more than one person at at time. Once everything is settled, I'll have to remount all of the acoustic panels to be level. (AND SOMEONE needs to eat those bananas!)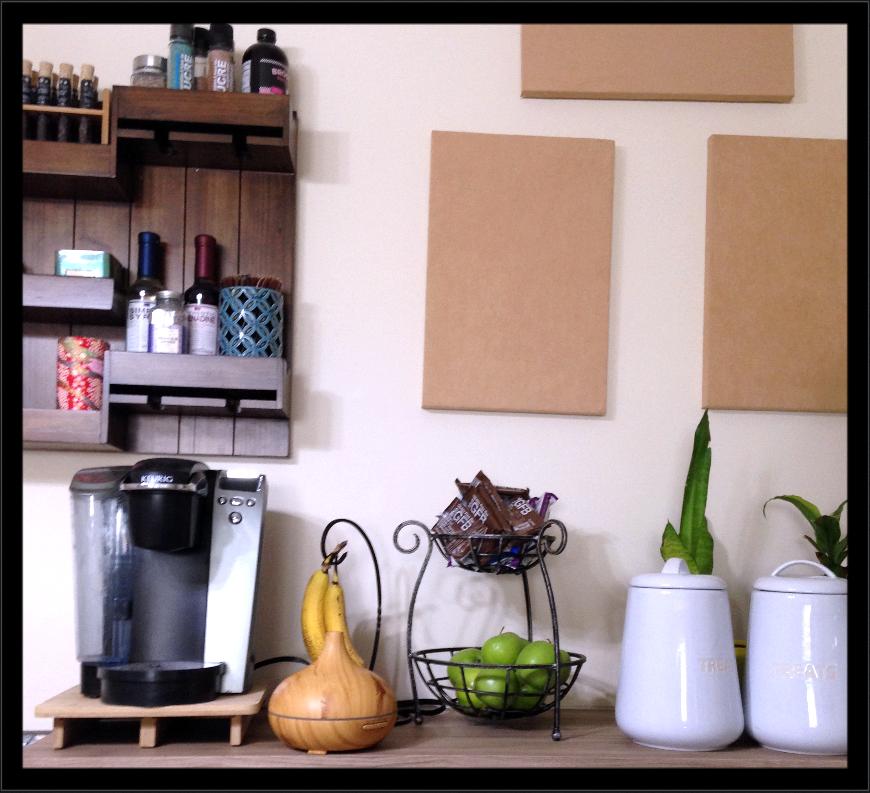 Also, you may have noticed that my screen name has changed everywhere! If you want to find me, use the following
Twitter: www.twitter.com/BindyCoda
Facebook: www.facebook.com/BindyCoda
Soundcloud: www.soundcloud.com/BindyCoda
Website: www.bendyvoices.com
Newgrounds: www.bindy.newgrounds.com
If you'd like to book me for any of your projects, please use my website contact form. Unfortunately, DMs might get overlooked!